Rustic chicken and mushroom pie
A recipe from
cooking-ez.com
42K
3.8
December 30
th
2019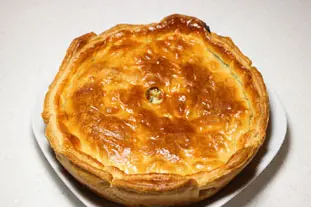 For 1 pie, you will need:
Times:
| Preparation | Cooking | Start to finish |
| --- | --- | --- |
| 43 min. | 52 min. | 1 hour 35 min. |
Step by step recipe
1: Roll out 200 g Puff or flaky pastry (pâte feuilletée) and line a deep, non-stick tin ( 8" or 20 cm diameter, preferably spring-form type) with this rolled-out pastry.
Trim off the excess pastry, leaving a rim of about half an inch (1 cm) overhanging around the edge. Set aside in the fridge.
2: Dice 300 g cooked meat. Here I am using left-over chicken, which is ideal for this recipe.
3: Peel 600 g mushrooms and chop into small chunks.
4: Pour 30 g goose fat into a saucepan on high heat. When really hot, add the mushrooms and cook for about 5 minutes.
Salt and pepper at the end of cooking, after taking off the heat.
Set aside.
6: Prepare and finely chop 1 onion. Heat 4 tablespoons olive oil in the same pan as before, still on high heat. When really hot, add the chopped onion.
Salt and pepper, then cook for 1 minute without colouring.
7: Add the chopped leeks, stir, then cover and cook for 4 or 5 minutes until the leeks are quite tender but still nice and green.
Salt and pepper.
8: Add the mushrooms and chicken. Mix well.
9: Add 250 ml liquid cream, mix and leave on low heat to reduce.
10: Stop cooking when the filling has thickened, then check the seasoning.
Leave to cool.
11: Preheat the oven to 410°F (210°C).
Glaze around the edge of the pastry case with beaten egg.
12: Fill the pie with the cold filling mixture.
13: Roll out 200 g Puff or flaky pastry (pâte feuilletée) into a circle and make a small hole in the centre of this pastry lid to allow steam to escape during baking.
14: Lay the pastry circle on top of the pie and press the edge down firmly to seal it.
trim off the overhanging pastry with scissors and glaze top.
15: Bake for about 30 minutes, preferably low in the oven, with the tin directly on the shelf.
Do watch for the pastry browning towards the end of cooking.
Remarks
Everything up to
stage 10
can be prepared the day before cooking.
---
August 12th 2022.