Tex-Mex chicken burger
A recipe from
cooking-ez.com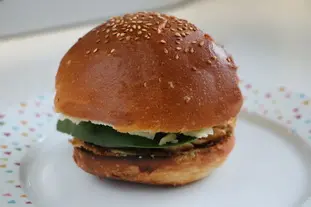 For 4 people, you will need:
Times:
| Preparation | Cooking | Start to finish |
| --- | --- | --- |
| 32 min. | 15 min. | 47 min. |
Step by step recipe
1: Prepare all the burger ingredients apart from the meat:
– Prepare 1 avocado, slice fairly thickly and drizzle with lime juice.
– Cut 50 g Cheddar cheese into thin shavings with a vegetable peeler.
– Prepare 1 onion and slice thinly.
– Rinse and dry 8 leaves fresh spinach.
– Pick the coriander (cilantro) leaves off the stalks.
2: Cut 200 g chicken breast into strips.
Salt and pepper then set aside.
3: Heat 2 tablespoons olive oil in a small frying pan on medium heat. When good and hot, add the chicken pieces.
Fry until lightly browned., then add 1 tablespoon chilli spices at the end.
Set aside.
4: Slice 4 Hamburger buns through the middle.
5: Toast the bottom halves, sitting the "lids" on top of the toaster to do them lightly at the same time
6: Assemble the burgers: take a bottom half, add some chicken, then onion slices, then avocado.
Drizzle a little lime juice over.
7: Add the spinach leaves and cheese shavings.
8: Finish with the top half of the bun.
9: Your burger is ready to enjoy.
Remarks
If you like it, try spreading a little mustard on the bun before assembling your burger, or a few drops of Tabasco – or even both.
---
September 19th 2021.