Vol-au-vent
A recipe from
cooking-ez.com
131K
4.1
October 20
th
2013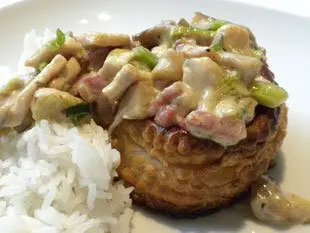 For 4 people, you will need:
Times:
| Preparation | Cooking | Start to finish |
| --- | --- | --- |
| 40 min. | 43 min. | 1 hour 23 min. |
Step by step recipe
1: Rinse and chop 1 leek. Rinse and chop ½ onion.
2: Pour 2 tablespoonsful of olive oil into a frying pan on medium heat. When hot, add the chopped onion, salt and pepper. Cook for 1 minute without colouring.
Add the leek, salt and pepper again, stir well and cook until the leek is just cooked but still a fresh green.
Set aside.
3: Wash and chop the mushrooms into small pieces (these are shiitake, but you can use others, particularly wild ones: morels, chanterelles, etc.).
4: Using the same pan on medium heat, pour in 2 tablespoonsful of olive oil. When hot, add the mushrooms, salt and pepper and cook briefly (they should not have time to soften much).
At the last minute, add the juice of half a lemon.
Set aside.
5: Still using the same pan, fry 150 g small pieces of bacon.
At the last minute, add 1 tablespoon vinegar.
Set aside.
6: Cut 200 g chicken breast into small pieces.
Pour 2 tablespoonsful of olive oil into the frying pan and fry the chicken pieces after seasoning.
7: When they are browned, tip the bacon and mushrooms back into the pan on top.
8: Add 250 ml cream, salt and pepper and mix thoroughly.
Heat the oven to 360°F (180°C) and heat the plates.
9: Leave the sauce to reduce on low heat.
.When the mixture has thickened, add the leek then turn off the heat (this will help the leek to stay green).
10: Reheat the 4 vol-au-vents cases for 5 minutes in the oven. Place a pastry case on each plate and fill until slightly overflowing.
Serve immediately on its own or with pilau rice, for example.
Remarks
The vol-au-vent was invented by the great chef
Antonin Carême
in the early 19
th
century.
I maintain (admittedly with a certain caution) that the French "bouchées à la reine" (literally, the Queen's mouthfuls) are simply small, bite-sized vol-au-vents.
---
September 27th 2023.