Brioche royale
A recipe from
cooking-ez.com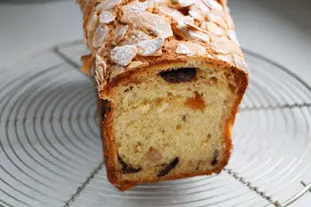 For 2 brioches, you will need:
Times:
| Preparation | Resting | Cooking | Start to finish |
| --- | --- | --- | --- |
| 12 hours 47 min. | 3 hours | 1 hour | 16 hours 47 min. |
Step by step recipe
1: Preheat the oven to 300°F (150°C).
Spread 100 g hazelnuts on a baking sheet and toast in the oven for 15 minutes.
Leave to cool.
2: Prepare 500 g Brioche dough. When made, add 100 g Candied grapefruit peel, 100 g chocolate chips and the hazelnuts to the mixer bowl.
3: Mix for a few more minutes until well mixed together.
4: Cover with plastic film and leave to rest at room temperature for 1 hour.
5: After this time, knock back the dough. Do this by lifting it and letting it fall back sharply into the bowl a couple of times.
Cover with plastic film again and leave the bowl in the fridge overnight.
6: Next day, your dough should be firm and risen.
7: Cut into pieces of about 400 g.
8: Roll these pieces into long rolls, the same length as your tins or moulds. Lay the dough in the tins (greased if they are not non-stick).
Cover with a plastic sheet and leave to rest in a warm place for 2 hours.
9:

The macaronade

In a large bowl mix 100 g egg white, 100 g caster sugar and 150 g ground almonds.
Your macaronade is ready.
10: Preheat the oven to 360°F (180°C).
Spread the top of each brioche generously with half the macaronade.
11: Scatter with flaked almonds, then sprinkle with icing sugar.
Bake for 45 minutes.
12: Admire the fine "royal" look of your brioches...
13: Turn out the brioches and leave to cool on a wire rack.
Remarks
You can use other candied citrus peel, especially orange.
For the chocolate, the recipe suggests shavings or curls, which are easier to make, but you can use the same weight of chips or buttons.
---
December 8th 2023.