Galette de Fougerolles
A recipe from
cooking-ez.com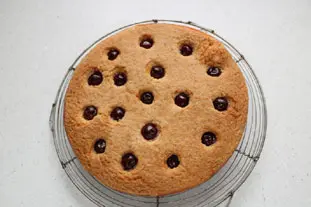 For 1 galette, you will need:
Times:
| Preparation | Resting | Cooking | Start to finish |
| --- | --- | --- | --- |
| 41 min. | 2 hours | 40 min. | 3 hours 21 min. |
Step by step recipe
1: Shape 200 g Brioche dough into 2 balls.
2: Stand a deep 7-inch (18 cm) dessert ring on a sheet of cooking parchment laid on a baking sheet.
3: Roll out the 2 pieces of brioche dough with a rolling pin into circles about 7 inches (18 cm) in diameter.
4: Lay a circle of dough in the bottom of the ring. Don't worry if it doesn't go right to the edge, as it will swell during baking.
6: Spread 250 g Rich hazelnut buttercream over the dough, keeping it inside the glazed edge.
7: Sit the second circle of dough on top and press down lightly around the edge to seal.
8: Glaze all over the top.
Leave in a warm place to rise for 2 hours.
9: Meanwhile, drain 50 g Griottine cherries.
10: Roll out 100 g Craquelin (sweet cracker dough) thinly.
11: Cut out a circle of craquelin 7 inches (18 cm) in diameter. Use a plate of the right size to help you.
12: Once the brioche has risen well, preheat the oven to 360°F (180°C).
Lay the craquelin on top of the galette.
13: Push the cherries into the top of the galette through the craquelin, distributing them evenly.
Tip: Push your finger through the craquelin into the dough with a sharp, precise prod, then stick the cherry into the hole you have made.
14: Bake for about 40 minutes.
15: Leave to cool on a wire rack.
Remarks
For an interesting variation: replace half the flour in the craquelin with ground hazelnuts. This gives a more definite hazelnut flavour and a subtler crust.
If you don't have hazelnut cream, just use
almond cream or frangipane
instead.
---
September 18th 2021.