Fish in white wine
A recipe from
cooking-ez.com
84K
4.1
December 14
th
2016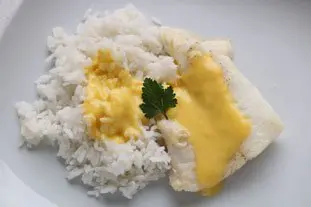 For 2 people, you will need:
Times:
| Preparation | Cooking | Start to finish |
| --- | --- | --- |
| 21 min. | 35 min. | 56 min. |
Step by step recipe
2: Clean 300 g fish fillet, then salt and pepper on both sides.
Preheat the oven to 390°F (200°C).
3: Put into a gratin dish: 50 g butter cut into small pieces, the bayleaf, thyme and half the onion. Salt and pepper lightly.
4: Lay the fish fillets in the dish, add the rest of the onion on top and pour in 100 ml dry white wine.
5: Cook for 30 minutes.
6: After this time, transfer the fish fillets to a hot plate and cover with aluminium foil to keep hot while you make the sauce.
7:

Making the sauce

Strain the cooking juices into a small saucepan.
8: Add the juice of ½ lemon.
10: ...and continue beating gently on low heat until the sauce thickens.
Important: do not allow the sauce to boil and stop cooking as soon as the sauce thickens.
Check the seasoning.
11: Serve on hot plates, one fish fillet per person with the accompaniment of your choice (rice here) and the sauce poured over.
Remarks
For the fish, use whatever is in season (whiting in these photos).
---
May 16th 2022.