Pavlova
A recipe from
cooking-ez.com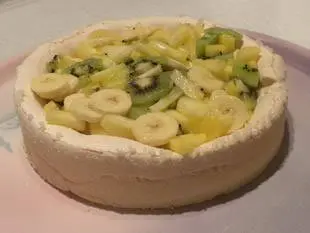 For 6 people, you will need:
Times:
| Preparation | Resting | Cooking | Start to finish |
| --- | --- | --- | --- |
| 1 hour 19 min. | 30 min. | 45 min. | 2 hours 34 min. |
Step by step recipe
1
Place a sheet of cooking parchment (or a silicon sheet) on a baking sheet and stand a dessert ring 24 cm (10 inches ) in diameter on top.

Melt 10 g butter and brush this over the "base" inside the ring.
2
Sprinkle caster sugar over the melted butter.
3
Do the same for the inside surface of the ring: brush with melted butter, then coat with caster sugar.
4
Put the ring back into place.

This will give us a meringue that is lightly caramelized on the outside.

Preheat the oven to 300°F (150°C).
5
Beat 60 g egg white to the stiff peak stage, then fold in 100 g caster sugar to make the meringue.
6
Pipe a spiral to cover the base inside the ring using a forcing bag.
7
Then pipe a circle around the edge to form the side of the pavlova.
8
Bake in the oven for around 45 minutes. Ideally, the meringue should be crisp on the outside and still soft in the centre.
9
Meanwhile, peel 4 kiwis and dice small.
10
Do the same thing with ½ pineapple.

Peel 1 banana and slice.
11
Mix the diced fruit together, add 4 tablespoons Sugar syrup and the juice of ½ lime. Mix well.

Set aside.
12
Take the meringue out of the oven as soon as it is ready and leave to cool (this is important, otherwise it is likely to break).
13
Slip a knife all around the inside of the ring.
14
Remove the ring and stand the pavlova on the serving plate.
15
Assemble the pavlova: spread a layer of cream in the meringue shell.
16
Top with the diced fruit.

Serve immediately.
Remarks
The name "pavlova" came from the Russian ballerina Anna Pavlova, for whom the dessert was invented - another artistic muse, like for
peach melba
.
A pavlova must be served straight away, as the fruit will soon moisten the meringue and make it go soft.
Use fruit in season (kiwi, pineapple and bananas as as I write). You can achieve excellent results with a mix of soft fruit, combining red (red currants, strawberries, raspberries) and black (blackberries, blackcurrants).
But to "render unto Caesar", as they say, I admit to having pinched the excellent idea of caramelizing the meringue from Christophe Michalak.
---
October 22th 2021.