Vegetable stock
A recipe from
cooking-ez.com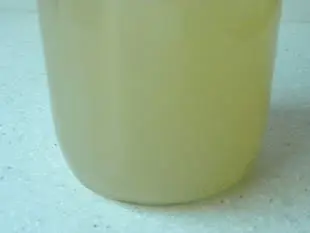 For 1 litre 500 ml, you will need:
Times:
| Preparation | Cooking | Start to finish |
| --- | --- | --- |
| 37 min. | 23 min. | 1 hour |
Step by step recipe
4: Crush garlic cloves with a knife blade.
5: Prepare 1 Bouquet garni.
6: Pour 2 tablespoons olive oil into a large pan on medium heat. When hot, add the chopped onion, salt, pepper and cook without colouring for 3 minutes.
7: Add the carrot, leek and garlic. Mix well.
Cook uncovered for 5 minutes on low heat.
8: Add 1 litre 500 ml water and the bouquet garni.
9: Cook on low heat for about 15 minutes.
10: After this time, strain the stock.
11: Leave to cool then transfer to a bottle or jar with a lid.
Remarks
You can vary the vegetables, but I advise you to keep at least carrot, onion and leek.
If you want to freeze the stock, you can use an ice cube tray to make cubes: easy to take out exactly the amount you need.
---
August 21th 2019.