Bounty-style tart for Alison
A recipe from
cooking-ez.com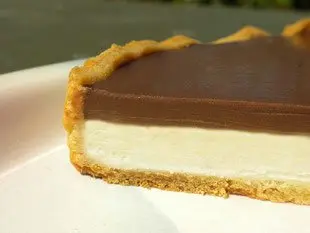 For 1 tart, you will need:
Times:
| Preparation | Resting | Cooking | Start to finish |
| --- | --- | --- | --- |
| 54 min. | 25 min. | 15 min. | 1 hour 34 min. |
Step by step recipe
1: Roll out the pastry, line the mould or tin, then bake blind.
Leave to cool on a wire rack.
2: Put 250 ml cream, 80 g caster sugar, 10 g Vanilla sugar and 250 g unsweetened coconut milk into a pan on low heat.
3: Bring to a simmer, stirring gently with a whisk.
4: When it comes to the boil, tip in 3 g agar-agar (mixed with 1 tsp sugar to make it easier to incorporate).
5: Beat to mix thoroughly and remove from the heat.
You can use a blender briefly to make sure that the agar-agar is properly mixed in.
6: Stand the pan in cold water to help the mixture set more quickly.
Stir from time to time until it starts to thicken.
7: Then pour into the pastry case...
8: ...to make the bottom "coconut" layer.
10: Pour 250 ml cream into a pan on low heat and add 200 g dark chocolate broken into small pieces.
11: When the chocolate has melted into the cream to form a smooth mixture, add the drained gelatin and 1 knob butter.
12: Mix again and stand the pan in cold water to speed up the cooling process.
13: Once the chocolate is cool or barely lukewarm, pour over the coconut layer.
Refrigerate the tart for at least one hour to give the chocolate time to set firmly.
14: Serve like any classic dessert tart. You can add a little real custard sauce (crème anglaise) or whipped cream.
Remarks
Best eaten the day it is made, otherwise the base will start to go soft.
[Translator's note: just right for a hard-working translator's coffee break!].
---
June 9th 2023.