Pear charlotte
A recipe from
cooking-ez.com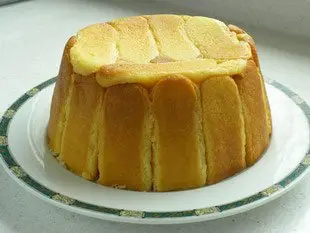 For 6 people, you will need:
Times:
| Preparation | Resting | Cooking | Start to finish |
| --- | --- | --- | --- |
| 12 hours 54 min. | 1 hour | 5 min. | 13 hours 59 min. |
Step by step recipe
1: Put 4 sheets gelatin to soak in cold water.
2: Peel the pears and cut into 4 lengthways. Remove and discard the core, then cut the quarters into small pieces.
3: Blend the pears with the juice of 1/2 a lemon, 2 pinches vitamin C and 50 g caster sugar.
You should normally get 400 grams of coulis for 1 charlotte.
4: Pour this pear coulis into a pan on medium heat.
5: Heat the coulis (no need for it to boil, 122°F or 50°C is hot enough) and add the softened sheets of gelatin.
Whisk to mix thoroughly.
Cool the coulis by standing the pan in cold water, stirring frequently.
6: Once the coulis has cooled to room temperature, cover with plastic film, which should touch the coulis surface to prevent oxidation. Leave to wait in the fridge.
7: While the pear coulis is cooling, begin assembling the charlotte. Line the bottom of the mould with plastic film to make turning out easier.
8: Prepare the soaking syrup by mixing 200 ml Sugar syrup, 2 tablespoons pear eau-de-vie and the juice of half a lemon.
9: Soak the biscuits in the syrup and cover the bottom of the mould.
10: Then line around the sides.
11: Check the texture of the pear coulis, which should be thickening and turning pasty.
12: Prepare 200 ml Chantilly cream.
13: Add the same weight of pear coulis.
14: Fold this in using a soft spatula to make the pear mousse.
15: Fill the charlotte with half of the pear mousse.
16: Add a layer of pear coulis about 1/2 cm (1/4 inch) thick.
17: Finish filling with the rest of the pear mousse.
Cover with plastic film and leave overnight in the fridge.
18: Turn out shortly before serving and slice vertically.
Remarks
To simplify things, you can miss out the layer of coulis in the middle of the charlotte and simply fill it with the mousse.
You can use this basic method to make charlottes with other fruits, but do be aware that certain fruits can
cause problems
.
You can use pear juice instead of the sugar syrup.
---
October 21th 2020.