Yvetot Douillons
A recipe from
cooking-ez.com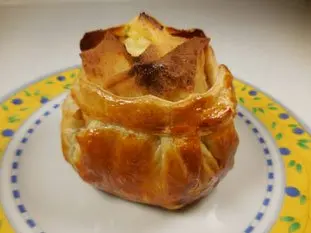 For 4 people, you will need:
Times:
| Preparation | Cooking | Start to finish |
| --- | --- | --- |
| 33 min. | 30 min. | 1 hour 3 min. |
Step by step recipe
1: Preheat the oven to 390°F (200°C).
Peel 4 Pears and remove the core with an apple-corer (the stalk will go as well, but that doesn't matter).
2: Fill the middle of each pear with confectioner's custard. You can use a teaspoon, but it is better to use a forcing bag.
3: Cut 2 pancakes in half. Use a brush to coat each half with egg white, then sprinkle with vanilla sugar (about 1 dessertspoonful for each half pancake).
4: Wrap each pear in half a pancake, sugar side inwards.
5: Cut a circle of puff pastry for each pear about 12 cm (5 inches) in diameter.
6: Place a pear in the centre of the pastry circle...
7: ...and fold the pastry up around it.
8: Finish the edge neatly with a strip of pastry.
9: Glaze the puff pastry, then bake for about 30 minutes.
10: Leave until just warm or cold before serving.
Remarks
I like using red Williams pears for this, but whatever variety of pear you prefer will work fine.
---
September 29th 2020.