Moussaka
A recipe from
cooking-ez.com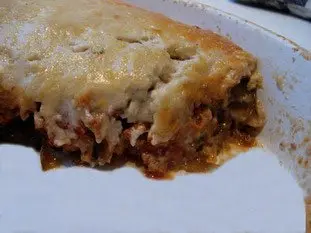 For 6 people, you will need:
Times:
| Preparation | Cooking | Start to finish |
| --- | --- | --- |
| 1 hour 28 min. | 1 hour 25 min. | 2 hours 53 min. |
Step by step recipe
1: Wash 3 egg-plants or aubergine and cut into thin slices.
Salt them and put in a strainer for about one hour, until some of the juice runs out.
3: Peel and chop 1 onion.
4: Heat 4 tablespoons olive oil in a large pan. When hot put in the aubergine slices.
5: Cook for 4 or 5 minutes while stirring, then transfer onto absorbant paper.
6: In the same pan heat 4 tablespoons olive oil. When hot, add the chopped onion and cook for one minute.
Add 500 g minced beef.
7: Cook meat until it browned, then salt, pepper, and add 1 Bouquet garni and 2 cloves garlic en chemise.
8: Add tomatoes.
9: Mix well, cover, and cook on low heat for about 30 minutes, stirring occasionally.
10: After this time, uncover, discard bouquet garni and garlic.
11: Prepare bechamel sauce. When ready add 200 g feta in small pieces.
12: Preheat oven to 392°F (200°C).
Butter a gratin dish, and arrange half the aubergine slices in a layer in the bottoom.
13: Cover with half the meat.
14: Cover with half the bechamel.
15: Repeat these 3 layers, and finish by sprinkling with some cheese.
16: Cook in the oven until top is golden brown (about 30 minutes).
Remarks
As with all gratin style dishes, moussaka can be made in advance, even frozen to be reheated when required.
---
May 25th 2020.