Avocado and smoked salmon terrine
A recipe from
cooking-ez.com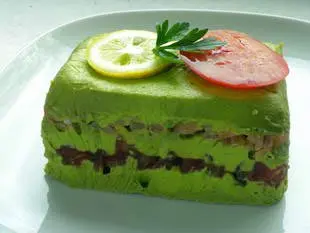 For 1 terrine, you will need:
Times:
| Preparation | Resting | Start to finish |
| --- | --- | --- |
| 2 hours 7 min. | 2 hours | 4 hours 7 min. |
Step by step recipe
1: Peel 2 avocados, dice and sprinkle with the juice of 1 lime. Add a little Tabasco, salt, pepper, 4 tablespoons olive oil and ½ teaspoon vitamin C. Blend to obtain a smooth avocado purée .
Note: The vitamin C prevents the avocado turning brown. If you don't have any, add more lime juice and eat the terrine within 2 hours of preparation, otherwise it will lose its lovely green colour (but not its flavour).
2: Soak 3 sheets gelatin.
It is not essential, but you can pass the avocado purée through a sieve to make it smoother.
3: Check the seasoning of the avocado purée.
4: Put 3 tablespoonsful of avocado purée into a pan over low heat and heat while stirring continuously. Do not let it boil! As soon as the purée feels hot when you dip your finger in it, turn off the heat and add the drained gelatin. Continue stirring until it has melted.
Leave to cool, then pour back into the rest of the avocado purée and mix thoroughly.
Set aside at room temperature.
5: Cut 150 g smoked salmon into small dice and sprinkle with a little lime or lemon juice.
Set aside.
6: Peel 2 tomatoes, dice small, sprinkle with 1 tablespoon balsamic vinegar and scatter chopped chives over.
Set aside.
7: Begin assembling the terrine:
Line the inside of your dish or mould with stretch film, as this makes turning out easier (if you intend serving the terrine straight from the dish, like a pâté de campagne, this isn't necessary). Stand the dish on a tea-towel folded in 4.
Put a layer of avocado purée in the bottom of the dish (about 1 cm or ½ inch). Tap the dish onto the tea-towel to spread the purée evenly. Do this for each layer.

8: Cover with a layer of diced salmon.
9: Then a second layer of avocado.
10: Cover with a layer of diced tomato.
11: Finish with a third layer of avocado.
Cover carefully with plastic film and refrigerate for at least 2 hours.
12: Prepare a simple herb dressing by mixing with a fork: 200 g cream cheese, your choice of herbs, salt, pepper and the juice of ½ a lemon.
13: Turn out the terrine (if you want to) at the last minute and serve both the terrine and herb dressing well chilled.
Remarks
You can also add very finely-chopped onion or shallot to the avocado purée.
---
August 10th 2022.