Verrine of avocado mousse and crab
A recipe from
cooking-ez.com
147K
4.5
October 16
th
2011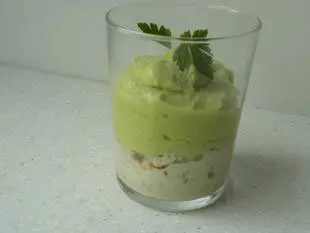 For 4 people, you will need:
Times:
Step by step recipe
1: Peel 2 avocados, then cut the flesh into large dice and put into a high-sided bowl.
Pour in the juice of ½ lime, 2 tablespoons olive oil, 5 drops Tabasco, salt, pepper and 1 pinch vitamin C (optional).
2: Blend all of this together.
3: For a smoother mousse, you can pass this purée through a sieve, but this is not essential.
4: Salt and pepper 2 egg whites then beat to stiff peak stage.
5: Incorporate the beaten whites into the avocado purée...
6: ...folding them in gently with a maryse, tilting the bowl on its side, so as not to beat the air out of the whites, but produce a mousse.
7: In a bowl mix: 150 g crab meat, 2 tablespoons Rémoulade dressing, and finely chopped chives.
8: Divide the crab meat between the verrines.
9: Add the avocado mousse on top.
10: It's ready.
Remarks
The crab meat can be replaced with diced prawns, for example.
---
September 21th 2021.