Blanquette of veal
A recipe from
cooking-ez.com
401K
4.3
February 5
th
2015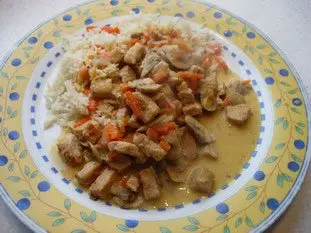 For 6 people, you will need:
Times:
| Preparation | Cooking | Start to finish |
| --- | --- | --- |
| 1 hour 11 min. | 1 hour 38 min. | 2 hours 49 min. |
Step by step recipe
1: Peel 400 g button or field mushrooms, slice thinly and sprinkle with lemon juice, then set aside.
2: Chop 2 shallots, set aside a teaspoonful for cooking the mushrooms.
Peel 2 carrots, rinse and cut into thin sticks (julienne).
Set aside.
3: Prepare 700 g veal: remove veins and trim off any skin, keeping only the best of the meat. Cut into small pieces.
4: Pour 4 tablespoons olive oil into a large pan on medium heat, and when hot, add meat, salt and pepper.
Fry stirring frequently, and remove meat from pan as soon as browned.
5: Leave pan on the heat and pour in 200 ml dry white wine. Scrape bottom of pan well to deglaze.
6: Then add carrots and shallots, 1 Bouquet garni and 2 cloves garlic.
7: Add meat.
8: Add just enough water to cover meat.
Cover and leave to cook over low heat at least an hour and a half.
9: After this time, pour the contents of the pan through a strainer, and collect the cooking juices in another pan. Put this on medium heat. Discard bouquet garni and garlic.
10: Prepare the mixture for thickening by beating with a whisk together 150 ml cream, 3 egg yolks, 2 tablespoons cornflour, the juice of half a lemon, salt and pepper.
11: When the cooking juices come to the boil, pour in the mixture and beat briskly. You will see the sauce thicken.
12: Put back the meat, stir well, check seasoning and leave on low heat.
13: Pour 3 tablespoons olive oil into a pan on high heat, and when really hot add the teaspoonful of shallot kept back, salt and pepper.
Cook one minute...
14: ...then add mushrooms, cook briefly stirring constantly. Stop cooking as soon as they begin to release liquid...
15: ...and tip into the blanquette.
The blanquette can be kept on low heat for a long time without any problem.
16: Serve with pilau rice for example, or boiled (or steamed) potatoes.
Remarks
Blanquette is a dish which gets better with each reheating, so don't hesitate to make a lot at once, and reheat it.
---
December 8th 2023.