Sicilian Epiphany Pie
A recipe from
cooking-ez.com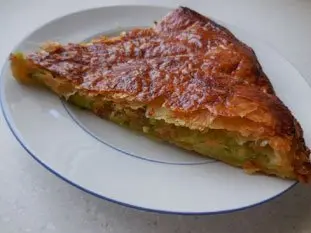 For 1 pie, you will need:
Times:
| Preparation | Cooking | Start to finish |
| --- | --- | --- |
| 31 min. | 30 min. | 1 hour 1 min. |
Step by step recipe
1:

Pistachio cream


To make the pistachio cream filling, put in a food-processor bowl: 2 egg yolks, 40 g Pistachio powder or paste, 75 g butter, 75 g icing sugar, 75 g ground almonds, 10 g cornflour, 1 tablespoon rum and 150 g ricotta.
2: Mix on medium speed until light and evenly mixed.
Preheat the oven to 390°F (200°C).
3:

Assemble the pie


Roll out half the puff pastry into a circle and lay on a baking sheet, then prick all over with a pique-vite (pastry pricker).
4: Spread the pistachio cream over the pastry, leaving a border of about 1/2 an inch (1 cm) free.
Cut 50 g candied fruit into small dice and scatter over the top.
5: Use a brush to moisten around the edge of the pastry with water.
6: Roll out the remaining puff pastry into a circle. Moisten around the edge...
7: ...and turn this over on top to form the lid.
Seal around the edge by pressing with your fingers.
8: Glaze the top of the pie.
9: Decorate the top by cutting a pattern with a knife, if you wish.
10: Sprinkle a little caster sugar on top to give a slightly caramelized finish.
11: Prick the top of the "galette" 4 or 5 times with a knife to allow the steam to escape during cooking.
12:

Baking

Bake for about 30 minutes.
Remarks
You can add a handful of
dry roasted
pistachio nuts in with the candied fruits.
For an even more authentic Italian flavour, use
amaretto
instead of rum.
---
January 16th 2021.