Bolognaise lasagne
A recipe from
cooking-ez.com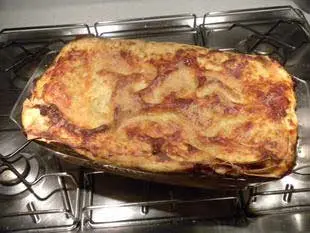 For 8 people, you will need:
Times:
| Preparation | Cooking | Start to finish |
| --- | --- | --- |
| 56 min. | 1 hour 7 min. | 2 hours 3 min. |
Step by step recipe
1: Peel and chop 250 g mushrooms.
Peel and chop finely 1 onion.
Pour 2 tablespoons olive oil into a pan on medium heat. When this is hot, add half the chopped onion, salt and pepper. Cook for one minute.
Add the chopped mushrooms and cook while stirring for 3 or 4 minutes.
Set aside.
2: Pour 2 tablespoons olive oil into a large pan on medium heat. When hot, add the remaining chopped onion, salt and pepper and cook for 1 minute.
Add 600 g minced beef and stir well.
3: Add 1 Bouquet garni, 1 beef stock cube and 2 cloves garlic en chemise.
Leave to cook uncovered until the meat is cooked and has turned brown. It doesn't matter if some juice comes out; don't throw this away.
4: Chop 1 bunch parsley.
5: Discard the garlic and the bouquet garni. Add the parsley, mushrooms and 300 ml tomato coulis. Mix well and remove from the heat.
6: Prepare 300 ml Bechamel sauce, but it should be on the runny side, not too thick.
Check your lasagne, as there are 2 types: the sheets will either be ready to use, or they will need to be cooked first (follow the instructions on the packet).
Preheat the oven to 180°C (360°F).
7: Butter a gratin dish and pour a layer of bechamel sauce in the bottom.
8: Spread a layer of meat in tomato sauce on top and sprinkle with a little grated cheese.
9: Cover with a layer of lasagne.
10: Repeat this operation until the dish is full...
11: ... and finish with a layer of lasagne, pour bechamel sauce over and top with a generous layer of cheese.
12: Bake for around 40 minutes. Watch carefully that the top doesn't brown too much.
Remarks
The proportions for this recipe are only approximate. You can vary them according to taste, the size of your dish, whatever you have to hand, etc.
For the cheese topping, Comté, Gruyère, Parmesan or Cheddar work very well. I prefer to use Parmesan for the inside layers and Comté on the top, as it browns nicely.
To save time, you can mix the cheese into the béchamel sauce when you are making it, keeping back a little to scatter over the top.
Lasagne is a dish that tastes even better when it is reheated, so make plenty in a big dish for later use. It freezes well.
---
April 1st 2020.