Melt-in-the mouth meat and vegetables in a sealed casserole
A recipe from
cooking-ez.com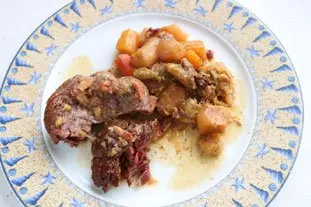 For 6 people, you will need:
Times:
| Preparation | Cooking | Start to finish |
| --- | --- | --- |
| 1 hour 10 min. | 4 hours 18 min. | 5 hours 28 min. |
Step by step recipe
1:

Prepare the accompanying vegetables and bacon

Peel and rinse 200 g turnip, dry and cut into chunks.
Do the same with 200 g carrot (here I am using delicious little carrots in different colours) and 200 g Jerusalem artichoke.
Peel 200 g mushrooms, rinse if necessary and cut into chumks (wood blewits here).
2: Peel and rinse 200 g Brussels sprouts, then cut into 4 lengthways.
Only use the white part of the leek and chop finely.
Peel 100 g onion and chop finely.
Dice 150 g belly (streaky) bacon small (use smoked if possible).
3:

Prepare the meat

Rinse and dry 1 kg 200 g beef, then salt and pepper all over.
4: Use a large casserole that can be used both on the hob and in the oven. Heat 3 tablespoons olive oil on high heat.
When hot, add the meat and brown all over (1 or 2 minutes on each side).
5: Remove the meat from the pan and set aside.
Turn the heat down slightly and add the bacon pieces.
Fry lightly.
6: Add the chopped onion, salt and pepper. Cook for 1 or 2 minutes.
7: Add the mushrooms, stir and cook for a further 2 or 3 minutes.
8: Add the juice of ½ lemon.
Stir well.
Preheat the oven to 300°F (150°C).
9: Add the vegetables all at once (carrots, Jerusalem artichokes, turnips and sprouts). Salt and pepper, then cook for about 5 minutes, stirring frequently.
This brief initial frying of the vegetables and bacon is what gives the dish a depth of flavour that just isn't possible by simply adding them raw.
10: Put the meat back into the pan. Sit it right on the bottom (press it down to be sure), surrounded by the vegetables.
Pour in 100 ml dry white wine and 100 ml Vegetable stock and season again.
11: Seal the casserole with 150 g sealing dough.
12: Cook in a slow oven for 4 hours.
13: The ideal way to serve is to bring the casserole to the table still sealed and break open the crust in front of everyone, so they can all share the delicious cooking aromas.
14: As is usual with this kind of popular bistro dish, everyone helps themselves to the meat and vegetables as they like.
There is no need to cut the meat, it is deliciously tender ("confit") and can simply be pulled apart with a fork!
Remarks
For the mushrooms, choose wild ones if possible, as they have more flavour. Use either fresh ones in season or dried (morels or chanterelles, for example).
If you do not have any vegetable stock (
stage 10
), use a chicken stock cube instead.
If for any reason you cannot or do not wish to seal the dish (a pity), increase the amount of liquid (wine and stock) by 50% to allow for evaporation during cooking.
---
April 9th 2020.