Melt-in-the mouth meat and vegetables in a sealed casserole
---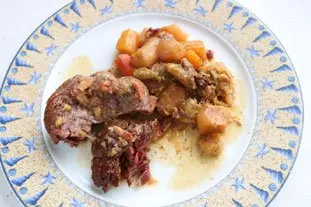 In this recipe a good joint of beef is slow-cooked, surrounded by an assortment of vegetables in small chunks.
To concentrate the flavours, the cooking time should be long at a moderate temperature and, most important of all, the dish should be
sealed
.
By the end of cooking, the vegetables will be meltingly soft and the meat can be pulled apart with a fork.
This is an appealing dish to serve and share, leaving everyone to help themselves as they like.
Last modified on: December 30th 2019
Keywords for this recipe:
Meat
Beef
Vegetables
Cocotte
Lutée
Slow cooking