A little molecular gastronomy
Meat cooked for a long time becomes very tender, almost melting - why is it so?
Meat is mainly made of proteins, which are molecules made up of amino acids linked by two kinds of bonds s:
Peptidic bonds, which form chains (

green

)
Covalent bonds, which give "3D" structure to the protein (

red

)
Like in this diagram: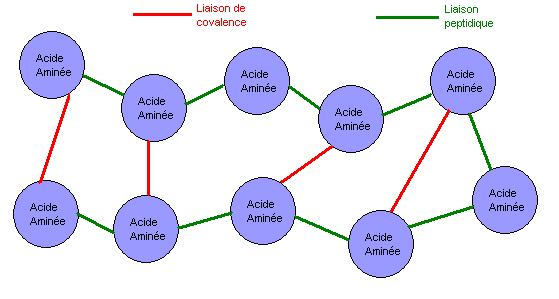 But if proteins are heated for long enough, covalent bonds break down, and only peptidic bonds remain, giving meat a more "fibrous" structure, and a smoother texture.

This explication is certainly short, but fairly simple. The information is taken from a lecture given by Hervé THIS and a biology book of Jérémy's from when he was at college.
Which recipes use this method?
Of course
5 hours poultry
, but also confit de canard,
rillettes
, etc.
Last modified on: August 11th 2018
Post a comment or question:
You are welcome, if you wish, to comment on this page: why you like it or not, what you have changed, what results it gave, point out a mistake or omission, etc. You can also ask a question. I answer all questions (in a broken English, sorry) unless someone else does it before me.
Please feel free to say what you think, I'm always very interested in your opinion. Your comment will appear on line with the page, so please write in standard readable English, not SIM or only in CAPITALS, otherwise your comment may be rejected.
Please look at advice for submitting a comment or image (what you should or should not do). By the way, don't type your e-mail address in the comment, otherwise you might be spammed.
Follow this page
If you are interested in this page, you can "follow" it, by entering your email address here. You will then receive a notification immediately each time the page is modified or a new comment is added.