Generalities
Filicutter is a tool to hot cut styrofoam, which allows you to highlight any piece recovered, and do so a lot of things: modeling, layout, visual arts, etc ...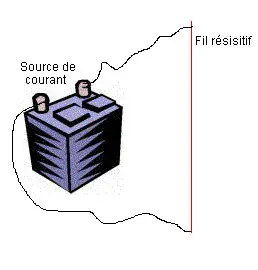 The principle is quite simple, there is a strong electric current in a thin resistive wire. The wire under the effect of current, heat and cut easily and cleanly styrofoam, much much better than with a knife or a cutter, particularly for large pieces (> 5 cm thick). It can also be use to cut plastic or synthetic foam.
Build a filicutter is only adding a current source to resistive electrical wire, adding a control switch and possibly a light bulb to limit a bit the current passing through the wires.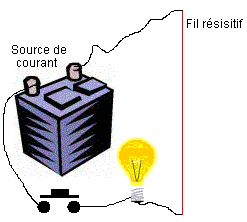 And of course mount the whole on a structure, insulated, easy to handle, so you can control the hot wire during phases of cut. The idea was to do something that looks like a bit to a saw wire, a kind of huge "U" who owns a handful at the end. Like this: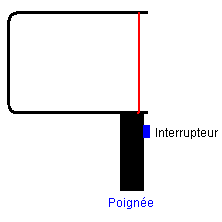 This way you control switching on/off heater wire with a finger, and guide cutting with the same hand.
What you need
Resistive wire: not easy to find, you can try electronic components dealers, hardware, paint stores or plastic arts shops. This wire (sometimes called "constantan"), can also be replaced by piano chord/wire but's it is more fragile. Other idea by Alain, the recovery of resistance in an old radiator or electric toaster, you may need to increase or decrease the energy voltage depending on what you want to obtain (see below)
A piece of plastic pipe: to do the handle, take about 10 cm or 4 inches of plastic plumbing pipe
A push-button: for switching on (electronic components dealers)
A piece of metalic pipe of 1 cm diameter: To make the "U", at your size. Mine is 26x30 cm or 10X12 inches, made from an old aluminium tent pole
Electric wire: To put electric power to heating wire throught push-button. Take any kind of wire, with two sub-wires, and not too thin (bigger than telephone or network wires)
A power source: One more time, anything you can get who could deliver a 20 volts power, no matter AC or DC (I use an old car battery chargeur)
Miscellanous: Electrical scotch-tape, some bolt and nuts
How to
When you've read the principle, you can do it in your way. Here is mine, made with resistive wire and car battery charger.
Fold metalic pipe to make the "U" according to your dimensions.
Cut the handle in plastic pipe. On top of this pipe, make (using a saw) a place for the "U". Make a hole for your push-button, in the right place for your finger as a trigger. Connect two wires to push-button, and put them inside the handle.
Put the "U" in the handle, let 2 cm - 1 inch exceed, and fix it by making two holes througt the handle. Put two bolts in those holes, and put two nuts on the other side. You should have in your hand something light, with push-boutton right under your index.
Add then the resistive wire on the "U". On top, use a small metallic bolt with a ring head. You shoud use metallic bolt because and electric contact is needed on that side.
On bottom, contrarily wire should be insulate from the "U": use a small piece of wood, fixed with another bolt and nut, then another metallic bolt with a ring head.
Then connect:

One arrival of power to the "U" (using an alligator clip for example).
The other power arrival on one probe of the push-buttonl
The second probe of push-button to the bottom metallic bolt with a ring head
That's it, it's over, you can now discover the happiness of precision cutting styrofoam...
Alain told me that you should be careful with styrofoam smokes when cutting, they are toxic and should not be breath.
Evolutions
Filicutter with handle like this one is very useful for... sculpturing styrofoam, but it's a bit difficult to make straight cuts.
If you have this kind of cuts to do, it could be interesting to improve it by making a kind of stand. The idea is to make this stand with a right-angle system and another push-button commanded by your feet, so that your two hands are free to control the styrofoam piece move.
To do that, you should make a small table, with a hole in and where the wire pass through. Table and filicutter should be in right angle, stable and connected, for example in a clamp.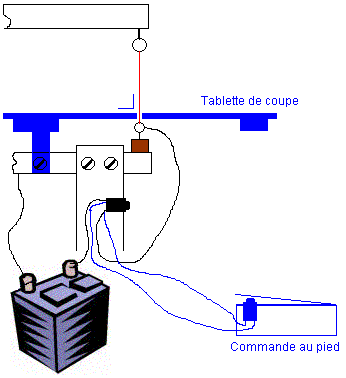 Home made filicutter
Here is some photos of mine (click to enlarge) :
| | | | |
| --- | --- | --- | --- |
| | | | |
| Overview | Grip detail | Top nail detail | Fixing detail |
| | | | |
| Connected to a car abatterry charger | Working on claw-back styrofoam piece | Sharpen curt | Cutting table... |
| | | | |
| ...in a clamp. | Filicutter in p.lace | Feet control... | ...in action |
| | | | |
| Also cut styrodur... | ...easily... | ...even... | ...in shapes... |
| | | | |
| more complex. | Also cut foam | | |
Conclusion
You could now, according to your needs, enhance the filicutter. Just in case, here is some lines of enquiry:


Using a lamp to enlighten the place where wire cut (more comfortable).
Adding a guide for cutting on a side, to be sure to have straight cutted pieces.
Adding a regulation sytem for bending wire, no matter it is cold or hot.
Etc...
Of course, if you want to give or ask precisions or informations, don't hesitate to contact me.