Polynesian arrow
On this page: What you need - How to ? - Throwing - Miscellanous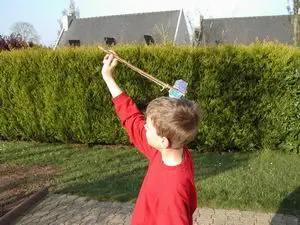 It's a do-it-yourself job to make with childrens on a tedious afternoon.
What you need
A wood stick of about 40 cm or 16 inches : Tell the kids to bring you a hazelnut tree branch of about one finger diameter.
A piece of supple plastic for feathers : Use an old liquid laundry soap plastic jar.
Some iron wire : To fix feathers.
Some string : About 30 cm or 10 inches bigger than the wood stick size.
How to ?
Sharpen one extremity of the wood stick (could be made by kids).

Cut straight the other extremity, using a saw.

Splint his extremity in four on about 6 cm or 3 inches.
With scissors cut plastic to get 2 rectangles of 10x5 cm or 4x2 inches (about).

Make a slash in the center of the two plastic rectangles, and fit together to make feathers.

Put feathers in the bottom arrow and fix it with some iron wire (in red on the schema).
You should have something look like that.
Possibly cut again feathers to get beveld ones, more esthetic.
Make the nick about two cm or one inch from feathers (in blue on the schema).

Then prepare the string by making a simple knot on its extremity.

You should have something look like that.
The arrow is over, to test it just throw it high, if it plant in earth, it's ok... Otherwise it's maybe too heavy (wood too big, or too large in diameter, you should reduce), or feathers too small, you can enlarge it.
Throwing
| | |
| --- | --- |
| String is rolled, with its knot, around the nick. | |
| String is tight along the arrow. | |
| The remaining string is rolled around hand launcher. | |
| And the all is hold by the arrow extremity. | |
| And then throwed away... | |
| | |
| | |
Miscellanous
Be careful, arrow can be throwed far, so take care with all around and teach the kids security rules: demonstration, never toward humans or animals, etc...).
You can make a target, by putting in the garden or field an old bike tyre, the goal is to plant the arrow in.
Last modified on: August 11th 2018
Post a comment or question:
You are welcome, if you wish, to comment on this page: why you like it or not, what you have changed, what results it gave, point out a mistake or omission, etc. You can also ask a question. I answer all questions (in a broken English, sorry) unless someone else does it before me.
Please feel free to say what you think, I'm always very interested in your opinion. Your comment will appear on line with the page, so please write in standard readable English, not SIM or only in CAPITALS, otherwise your comment may be rejected.
Please look at advice for submitting a comment or image (what you should or should not do). By the way, don't type your e-mail address in the comment, otherwise you might be spammed.
Follow this page
If you are interested in this page, you can "follow" it, by entering your email address here. You will then receive a notification immediately each time the page is modified or a new comment is added.