Advices for writing your recipes
On this page: Recipe title - Photo - Category and subcategory - Public or Private - Introduction - Ingredients - Making of - Supplements

If you choose to write your recipe, you must do so via a form in which you must enter all the information about the recipe (
when connected
) .
Note
: to connect, you first need
to subscribe
.
Here are some tips for completing these fields.
Recipe title
As the name suggests, it is the title of the recipe, but also how it will appear in the various lists of recipes, try putting something representative and not too long (5 or 6 words or less).
Photo
With each recipe you can add a picture to accompany and present, it is not (yet) mandatory but highly recommended. The pictures that you can file must be in JPG or PNG, not weigh more than 200 kilobytes and be of reasonable size.
I recommend a size of 311x210 pixels because it is the size of pictures of every recipe site, like this example: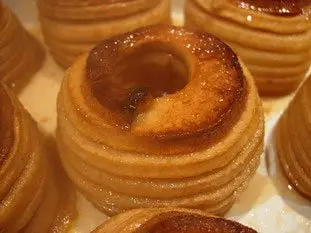 i you try to upload a too big photo, the site will automatically reduce it.
Note that to replace a picture, you just need to deposit another to replace the previous one.
Category and subcategory
You can organize your recipe into a main category and subcategory to choose from a menu. This should eventually allow them to be sorted and find them faster.
Public or Private
When "private" a recipe can be seen only by you, when "public" it appears in the list of user's recipes. Tip: When you are writing your recipe, leave it to "private", and when it's done put it to "public".
Introduction
Present the recipe in some words or phrases to indicate what it is, what is intended to do, and so on.
Ingredients
Ingredients used in the recipe, as an ingredient list with a line starting with a "-", example:
- 150g sugar
- 3 eggs
Making of
This is the most important part where you have to put as much information on the steps of the recipe. The ideal is to list as the ingredients, for example:
1) Beat the 3 egg whites with a pinch of salt
2) Melt butter over low heat
Supplements
Add here any additional information on the recipe, a trick, accuracy, advice, etc. Example:
"Use the remaining egg yolks to make small vanilla cream that you can use the next day".
Last modified on: August 11th 2018
Post a comment or question:
You are welcome, if you wish, to comment on this page: why you like it or not, what you have changed, what results it gave, point out a mistake or omission, etc. You can also ask a question. I answer all questions (in a broken English, sorry) unless someone else does it before me.
Please feel free to say what you think, I'm always very interested in your opinion. Your comment will appear on line with the page, so please write in standard readable English, not SIM or only in CAPITALS, otherwise your comment may be rejected.
Please look at advice for submitting a comment or image (what you should or should not do). By the way, don't type your e-mail address in the comment, otherwise you might be spammed.
Follow this page
If you are interested in this page, you can "follow" it, by entering your email address here. You will then receive a notification immediately each time the page is modified or a new comment is added.