Real home-made chips* (Slideshow version)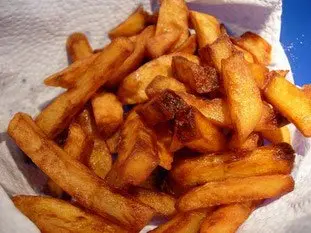 Overview:
It's not easy to make these - the original "French fries" - well at home, that is, to produce golden and crunchy chips from fresh potatoes. Here is a way of doing it in three cooking stages, which gives very good results: melting in the middle, crunchy on the outside, and a nice golden colour. What's more, everything can be prepared in advance.
[Translator's note: I have called these "chips" (the British English term, not to be confused with flat round "crisps", being what Americans understand by the term) rather than "French fries", to distinguish them from the very fine-cut variety often served under that name, and hope that American visitors will understand and forgive me].