Chocolate Chantilly (Slideshow version)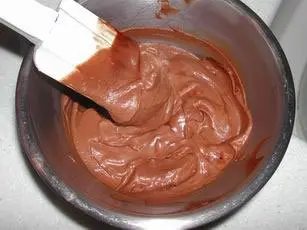 Overview:
If we look at the more scientific side of
Chantilly cream
we can see that it's mainly cream, and cream is a mix of very small droplets of milk fat and water, which is called an emulsion. When we whip this emulsion, we incorporate air into it and so create a mousse or foam. In the end Chantilly is a foaming emulsion.
The interest of this observation is that we can imagine doing the same not only with cream. We just need water and fat. And it works, so you can make chocolate Chantilly.
Please note that it's a chocolate Chantilly, not a chocolate flavoured Chantilly, meaning it's chocolate which is whipped into a creamy foam, but there is no cream in it.