Subscriber's recipes
List of recipes
Agneau confit des Granges du Bois
5,806

times
0
comments
note :

5.0 / 5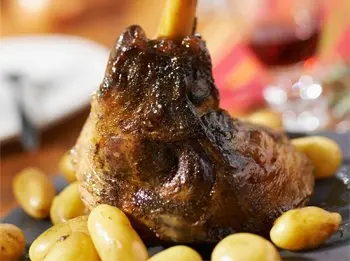 A recipe from:
PASDEGOURDI
Category :
Meat/Meat
Overview:
Agneau confit des Granges du Bois
Pas de repas de Pâques sans agneau : version fougerollaise, c'est encore meilleur!
you will need:
Agneau au kirschPour 4 personnes :
4 souris d'agneau
3 cuillères à soupe de Kirsh de Fougerolles AOC
1 kg de pommes de terre grenaille
1 bel oignon
1 cuillère à café de curry
2 cuillères à soupe d'huile d'olive
50 g de miel
sel, poivre
Step by step recipe:
Huilez les souris d'agneau, les saupoudrer de curry, de sel et de poivre. Laissez mariner une heure.
Préchauffez le four sur 180°C (Th 6).
Epluchez et émincez les oignons. Faites-les dorer dans une cocotte avec l'huile d'olive. Ajoutez la viande, le miel puis versez le Kirsch de Fougerolles AOC et laissez l'ébullition reprendre une minute.
Faites cuire à couvert 2h30 en mélangeant de temps en temps. A mi-cuisson, baissez le thermostat sur 150°C (Th 5).
Brossez les pommes de terre sous l'eau sans les peler. Ajoutez-les dans la cocotte 30 min avant la fin de la cuisson.
Remarks:
Last modified on:
March 10
th
2016
Post a comment or question:
You are welcome, if you wish, to comment on this recipe: why you like it or not, what you have changed, what results it gave, point out a mistake or omission, etc. You can also ask a question. I answer all questions (in a broken English, sorry) unless someone else does it before me.
Please feel free to say what you think, I'm always very interested in your opinion. Your comment will appear on line with the recipe, so please write in standard readable English, not SIM or only in CAPITALS, otherwise your comment may be rejected.
Please look at advice for submitting a comment or image (what you should or should not do). By the way, don't type your e-mail address in the comment, otherwise you might be spammed.