Subscriber's recipes
List of recipes
Magret Séché au Poivre et Romarin
2,559

times
0
comments
note :

4.5 / 5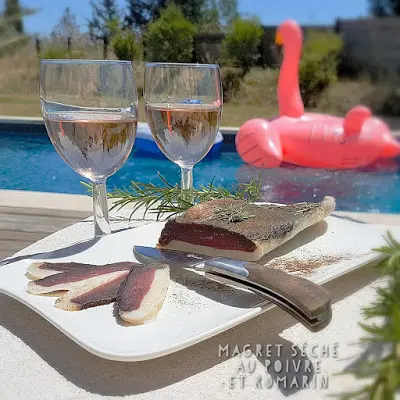 A recipe from:
saveurs d'ici
Category :
Starters/Meat
Overview:
Après avoir goûté cette merveille chez ma mère (et oui elle regorge de recettes plus gourmandes les unes que les autres, que ce soit version salée ou sucrée), j'ai décidé de vous livrer ma version du magret séché au poivre et romarin.
D'une simplicité déconcertante, le plus difficile sera d'attendre 3 semaines avant de le déguster ... et oui car le plus long dans cette préparation est d'attendre que l'affinage se passe !
Allez venez c'est par ici ...
you will need:
Pour un magret séché il vous faut:
- 1 Magret de canard de bonne qualité
- 500g de Sel de guérande
- Du poivre noir concassé et en poudre
- Des feuilles de romarin
(de la patience .... 3 semaines avant de le déguster)
Step by step recipe:
C'est parti:
Prendre le magret, et le déposer dans un saladier rempli de sel (le gras sur le dessus).
Le recouvrir ensuite de sel en totalité.
Recouvrir d'un torchon et laisser au réfrigérateur pendant 24 heures.
Rincer le magret à l'eau froide et bien l'éponger avec du papier absorbant.
Répartir coté "maigre" (viande), le poivre et les brins de romarin sur toute la surface, le poivre a une action antiseptique.
Emballer le magret dans un torchon propre, et le laisser reposer dans une assiette creuse en bas du frigo pendant 3 semaines minimum.
Il ne vous reste plus ensuite ... après avoir pris sur vous pour avoir résister à la tentation, de couper de fines tranches et de le déguster selon vos envies (salades, apéro ...)
Remarks:
Last modified on:
July 29
th
2017
Post a comment or question:
You are welcome, if you wish, to comment on this recipe: why you like it or not, what you have changed, what results it gave, point out a mistake or omission, etc. You can also ask a question. I answer all questions (in a broken English, sorry) unless someone else does it before me.
Please feel free to say what you think, I'm always very interested in your opinion. Your comment will appear on line with the recipe, so please write in standard readable English, not SIM or only in CAPITALS, otherwise your comment may be rejected.
Please look at advice for submitting a comment or image (what you should or should not do). By the way, don't type your e-mail address in the comment, otherwise you might be spammed.