Crunchy little pieces of fish (Slideshow version)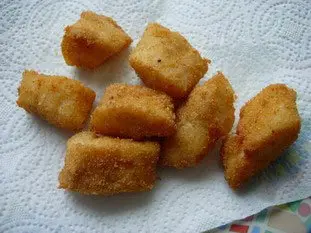 Stage 8/8 : 20 min.
...until they are nicely golden.
Drain on
absorbant paper
, and salt immediately.
Continue like this for all the fish pieces.
Remarks
The variety of fish does not really matter, whatever you prefere, but it should be fairly thick.
You can dip the fish twice in egg and breadcrumbs if you like a thicker, crunchier crust.
Another possibility: deep a second time in egg and then in seeds like sesame, linseed, poppyseed, etc.