How to cook red meat properly (Slideshow version)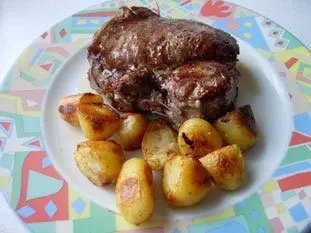 Stage 8/8 : 5 min.
Serve with your chosen accompaniment, for example
potato gratin
or
Sarladaise potatoes
.
Remarks
Contrary to an idea put about by unscrupulous restauranteurs, the tenderness of meat has nothing to do with how cooked it is. So if you enjoy well-cooked meat (like me), you can still have something on your plate that is both well done and tender.
In other words, if meat needs to be nearly raw to be tender, it's quite simply not very good meat.
You will see that once the meat has been removed from the pan, the remaining juices can quickly be transformed into an excellent sauce. I'll be coming back to that in a future recipe.
And to drink?
A good red wine from Gascony like "Java" (Merlot + Cabernet Sauvignon), as produced by the Fezas family at Larroque-sur-l'Osse.