Confectioner's custard (Crème pâtissière, or French pastry cream) (Slideshow version)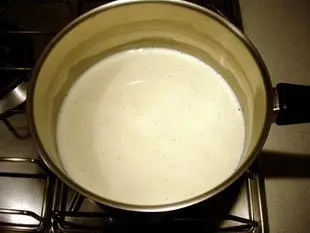 Stage 1/11 : 20 min.
Pour
500 ml
milk
into a pan, and add the inside of 1
vanilla pod
(the little black seeds) after carefully scraping them out with the tip a knife.
Bring to the boil on medium heat. As soon as it boils, take off the heat, cover and leave vanilla to infuse 10 minutes.