Spaghetti with smoked salmon (Slideshow version)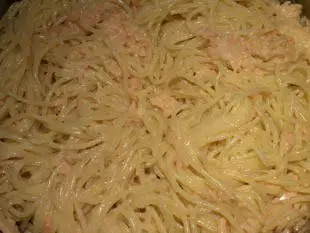 Stage 8/8 : 2 min.
Tip in the cooked spaghetti, the remaining grated Parmesan and mix well. Leave on low heat for a few minutes, stirring frequently.
It is ready as soon as the pasta has soaked up the cream.
Remarks
You can another type of pasta, such as tagliatelle, if you prefer.
And to drink?
An Italian white wine, such as a Greco di Tufo, or simply whatever you have used in the recipe.