Ham "friand" pie (Slideshow version)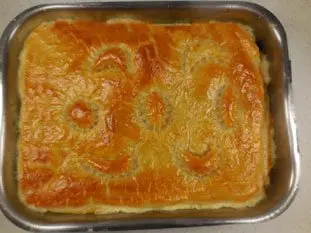 Stage 11/11 : 35 min.
Bake on a low shelf in the oven for about 35 minutes.
You can eat this pie hot from the oven, or leave to cool and cut into 4 portions (with a serrated knife) and refrigerate or freeze it for later.
Remarks
One difficulty of this recipe is to prevent the bechamel sauce soaking into the pastry and leaving it heavy and dense. To avoid this, get the pie into a hot oven as soon as it is assembled in the tin.
You can also begin by precooking the underneath layer of puff pastry in the dish, after pricking it all over with a fork just beforehand to stop it puffing up.