Small cheese and bacon rolls (Slideshow version)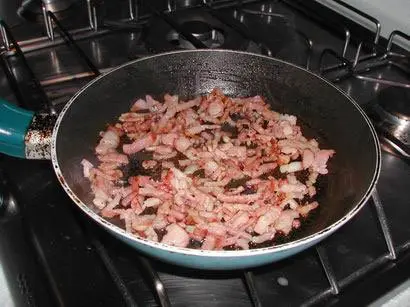 Stage 1/11 : 5 min.
Put 125 g
small pieces of bacon
cut in small pieces in a hot frying pan without any fat, fry until browned. Take off the heat and add a tablespoon of vinegar and mix.
Be careful with the vapours which rise: they clean out the sinuses with one blow if you breathe in...
This small accent of acidity brought by the vinegar is important to counterbalance the fat of the bacon. Drain the excess fat and set aside on kitchen paper.
You can, happily, wipe round the frying pan with a piece of bread, it is allowed...