Home-made terrine of foie gras (Slideshow version)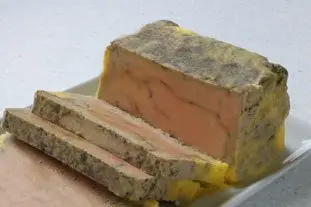 Stage 28/28 :
The service
Serve your foie gras either by removing the terrine from the mold (immerse the bottom for a few seconds in hot water to facilitate demoulding) and turning it over on a serving dish to cut slices, as on this photo.
Or, without removing it from the mold, by cutting slices in the bowl directly to the taste of the guests.
In all cases, take the bowl out of the fridge 10 minutes before serving , so that it is not too cold during the tasting.
Remarks
If you want a more natural taste, more pure foie gras, you can reduce the alcohol in this recipe to just one tablespoonful (or omit).
Again on the subject of alcohol, there is no need to be strict on the type or their number. Cognac and Armagnac are much the same (for the purposes of this recipe, at least); the same goes for sherry and port, or other fortified wines like Marsala, Maury, Madeira, etc.
For bread which goes best with foie gras, resist the temptation to use sliced industrial bread, or even worse brioche or other rich sweet bread (too soft, too sweet, too similar to foie gras). Better to use a more acidic, rustic bread like a classic "pain de campagne". For me, the best of all will always be a
leaven-raised bread
.
If you are worried about tackling this recipe, you can start with the easier method in
terrine of foie gras
.
If, like me, you are a foie gras aficionado but have a problem with the tradition of force-feeding geese, there is a glimmer of hope:
check this out
.
*In France, a blend of spices is sold as "quatre épices". You can make your own by mixing ground pepper, nutmeg, cloves and cinnamon.
And to drink?
One can discuss at length what wine to drink with foie gras but, at the risk of being controversial, I don't think a Sauternes goes at all well. Such a sweet wine is already too close to the sweet richness of the foie gras.
I suggest you try a dry white wine instead, which can bring out the flavour of the foie gras by contrasting with it. Why not a "Cotes du Jura blanc" (those from the
Domaine Rolet in Arbois (France)
are excellent).
If you really prefer a sweet wine, try something less sweet than a Sauternes, like "Coteaux du Layon, Croix blanche" a wine from the Loire valley, (those made by
Sylvie Termeau at Rochefort/Loire
are perfect).