Canapés of red mullet with poppy seeds (Slideshow version)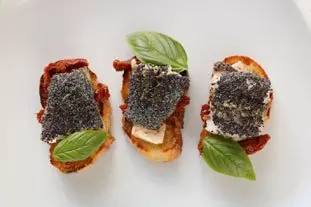 Stage 14/14 : 2 min.
Garnish with a fresh basil leaf and serve immediately.
Remarks
For the oil on the bread and the fish, I recommend using the oil from the preserved tomatoes, if possible, as it is well worth adding the extra flavour.
For the same reason, you can use
feta in olive oil with herbs
instead of plain feta.