Craquelin (sweet cracker dough) (Slideshow version)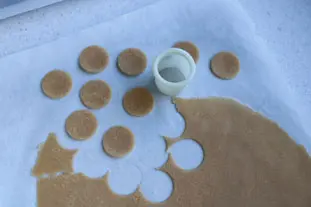 Overview:
This sweet cracker dough ("craquelin" in French) is a very simple mixture: equal parts of flour, butter and light brown sugar. It is simlilar to a shortbread dough and can be rolled out very thinly and cut into any shape as desired. Craquelin is mostly used (though not exclusively) on top of
choux pastry (pâte à choux)
to give a more attractive and regular result, with eclairs, for example, and gives them a delicious crisp crust on the top.
This is very much the current trend in French patisserie: less icing, at least on choux pastries, and more use of "craquelin". The pastries lose a bit of colour, but are less sweet and are crisper.