List of recipes using Jura Macvin:
2 recipes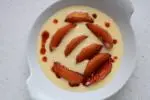 In this simple recipe, the sliced quinces are gently stewed in Jura Macvin until melting and caramelized. Served with real custard, this gives a delightful contrast of flavour and colour.
720
1 hour 20 min.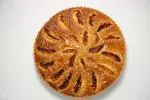 This tarte jurassienne (from France's Jura region) has a sweetcrust pastry case, filled with rich hazelnut buttercream and topped with a rosette of apple slices that have been sautéed in Macvin du Jura liqueur.
5,420
2
5
1 hour 17 min.