Cooking utensils: Bread dough at the right temperature
Bread dough at the right temperature
For bread dough to rise well, it should be left in a warm place, protected from draughts. Bakers use a special room, for this called a "chambre de pousse" (growing room). Difficult to do this at home...
Instead I use my kitchen oven (off) where I put a small light bulb of 15-20 watts. This light bulb gives enough heat to reach 81°F (27°C) inside the oven.
You need:
1 lamp holder, E14 type
1 light bulb, 15 watts
1 length of flexible lighting cable (flex)
1 plug
1 magnet (optional)
Connect together lamp holder, flex, plug. Screw in light bulb.
You can improve the sytem, by sticking (with epoxy glue) a magnet on the lamp holder, so it can be fixed anywhere inside the oven.
If you intend to buy:
You can also use a more powerful light bulb (e.g. 25 watts) which will give you a higher temperature.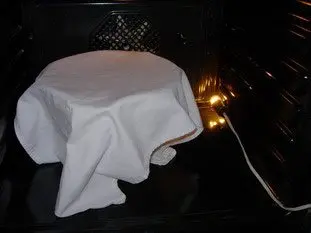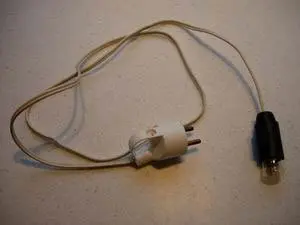 Post your comment or question
You are welcome, if you wish, to comment on this page: why you like it or not, what you have changed, what results it gave, point out a mistake or omission, etc. You can also ask a question. I answer all questions (in a broken English, sorry) unless someone else does it before me.
Please feel free to say what you think, I'm always very interested in your opinion. Your comment will appear on line with the page, so please write in standard readable English, not SIM or only in CAPITALS, otherwise your comment may be rejected.
Please look at advice for submitting a comment or image (what you should or should not do). By the way, don't type your e-mail address in the comment, otherwise you might be spammed.