List of recipes using Chocolate sauce:
3 recipes

You will no doubt be familiar with Bounty, the chocolate-covered coconut bar. Here's a melt-in-the-mouth version "on a plate" for a chic dessert.
42,509
4.6/5 for 19 ratings 1 hour 54 min.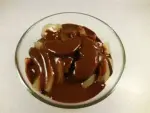 Poire Belle Hélène is a fairly simple cold dessert. The pears are poached in a vanilla-flavoured syrup, then served on top of vanilla ice cream with hot chocolate sauce poured over.
12,002
4.7/5 for 19 ratings 1 hour 46 min.

Small choux pastry puffs, filled with vanilla ice cream and topped with a rich smooth chocolate sauce.
89,134 1
4.5/5 for 2 ratings 1 hour 35 min.