List of recipes using Salmon fillet:
2 recipes

(lactose free)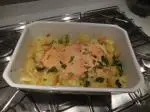 This is a quick recipe for salmon fillet, surrounded by sliced potatoes and baked with lemon juice, olive oil and herbs.
15K
4.6
33 min.

This is not as simple as it might at first appear. A properly grilled piece of salmon should be crisp on the outside and moist on the inside. This soft interior is achieved by very strict timing (cooking fish just right is a sign of a true chef), as undercooked it is unpleasant, and overcooked the...
18K
4.3
22 min.