List of recipes using Potted meat (rillettes):
2 recipes

Rilletes formed into thin cakes and fried. This allows the fat to drain off during cooking and leaves crunchy and tasty discs of lean meat which can be served with mashed potato (purée).
31,026
4.9/5 for 18 ratings 29 min.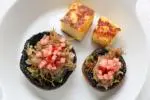 In this recipe, the mushroom caps are first sautéed, then filled with fried onions and a spoonful of rillettes, then baked in the oven. Here they are served with a quick pickle made from brunoise radishes with tarragon.
3,823
3.8/5 for 17 ratings 58 min.