List of recipes using Onion fondue:
2 recipes

(lactose free)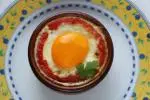 This is a novel way of cooking eggs: in tomato "shells" or egg-cups! For extra flavour, we'll put a spoonful of caramelized onions in the tomato first.
7,460
3.9/5 for 12 ratings 1 hour 3 min.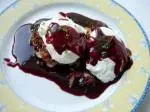 Eggs meurette or "œufs à la bourguignonne" is a great classic of French cooking, and of Burgundy in particular. It consists of poached eggs on a bed of fondue onions and bacon, served on a slice of fried bread. This is topped with a tasty reduced red wine sauce.
59,374 1
4.1/5 for 17 ratings 1 hour 11 min.