The table
When preparing your pizza dough, allow for 2 small pizzas per person, that's about 160 g of dough per person. It's better to count everybody in, even young children, which allows for the greedier adults, who will certainely eat three (or more like Stéphane).

Put out on the table one or two jars of pizza sauce and a lot of ingredients in plates or bowls so that each guest can assemble his or her own pizza. Here are some suggestions:
Mozzarella, grated cheese, sliced goats cheese
Olives, anchovies
Ham, smoked ham, chorizo, grilled bacon
Sliced fresh mushrooms, artichoke hearts, sliced fresh tomatoes
Smoked salmon, prawns, shrimps, scallops, mussels
Crème fraiche, eggs

Note: This is not obvious, but mozzarella should be rather dry to be used on pizza. So if you have fresh balls of mozzarella, slice them and put slices on a plate, uncovered, in the fridge for one night or more.


Cooking in a bread oven
It's very difficult, especialy for an amateur pizzaman like me, to succeed in getting a floppy circle of pizza dough, coated with sauce and all the toppings into the oven without risk of catastrophe: the dough sticks to the peel, folds over inside the oven, ingredients fall off, etc.
To avoid this, you can use "Tchéou's method" (a friend of mine who came up with it) which consists of briefly pre-cooking the pizza bases before giving them to your guests
You can do this in your kitchen oven before the party, even the previous day. Put dough directly on sole (floor of oven) for about 30 seconds. Doing this will give you a pizza base with one slighty crusty side, much easier to manœuvre with the peel.
During pre-cooking the dough might form large bubbles. Don't worry about this, just press down with a fork or spoon.
I suggest that you pre-cook all the pizza bases before the party, and put them on a tray on the table. Then each guest can take a pizza base, add a layer of pizza sauce and choice of toppings, and take it for cooking to the duty "pizzaïolo" (pizzacook).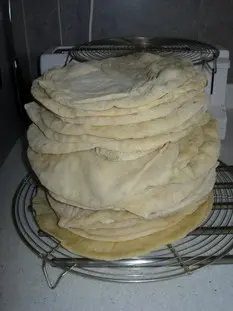 "Calzone" pizzas are a bit different: it's impossible to pre-cook the dough otherwise you will not be able to fold them over before cooking. For calzones, use a pizza mould or tin. Put an un-cooked pizza base in the mould, fill half the circle, then fold it over and stick the edges carefully.
When putting in the oven, try to have as little flour as possible underneath the pizza, because the flour will burn, and this will give a slightly unpleasant taste and colour to your pizza.
For cooking in the bread oven, just before starting, push the embers to the back and sides of oven to make room for your pizzas. Beat the sole sharply with the peel to remove any remaining ash, and start cooking.
Beware: with a really hot oven, cooking time is only about one minute or so, and you need to watch carefully. The usual disaster for me is the friend coming over from the table to watch their pizza cooking (sometimes bringing you a glass of wine): you chat, have a sip of wine, are distracted for 30 seconds, and that's it! The pizza is burned, or even worse turned to charcoal.
One trick: while a pizza is cooking in the oven, heat the plate by putting it in front of the oven like this: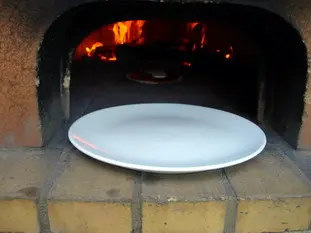 Because pizzas go cold very quickly, hot plates keep them hot for longer.
If you take a short break from cooking, rake the embers back to the centre of the oven to reheat it.
If during cooking the sole becomes messy, do the same thing, rake the embers back to pyrolise the oven. It takes about 5 minutes to get it clean again.


Cooking in a conventional oven
You can also make good pizzas in your kitchen oven, if you just follow two simples rules:
Oven should be very hot (240/250°C), preheat it at least 30 minutes before starting to cook.
Put pizzas directly on the oven sole, if possible without any baking sheet or mould. It's important that the pizza should be as close as possible to the high temperature at the bottom of the oven so that it cooks rapidly.
Sweet pizzas
It's possible to make a complete meal with pizzas, ending with a sweet pizza for dessert.

It's basically the same as for normal pizzas, the same dough, but instead of sauce you can use a thin layer of almond cream, or a litttle crème fraiche sprinkled with brown sugar, then add small diced fresh fruit, fruits in syrup, nuts, chocolate chips, etc., on top.

Cook as for normal pizzas.