What is it?
Behind this odd name hides one of bakery's great secrets: if you want to add flavour to bread dough (not made with leaven, but with yeast), you need to add a little fermented or "soured" dough, that is, dough that was made the previous day.

This is exactly the same dough, but it has spent the night in the fridge.

The added soured dough only affects the flavour of the bread: without it, the bread would be quite acceptable, but with it, there is a noticeable improvement. As only the flavour is affected by this optional addition, the bread's appearance and texture remain unchanged.
How do I make it?
The idea might seem confusing, but it is really quite simple: the first time that you make a recipe requiring soured dough, you won't add any (obviously, you won't have any yet).

But once you have kneaded this first batch of dough, put 100g aside and keep it in the fridge, covered with stretch plastic film.

The next day, the soured dough will be ready to use. Now you can add it when you make the original recipe again.

Of course, making the same recipe two days running is normally a thing only professional bakers do. For amateurs like us, it is likely to be much later, but this is not a problem: you can just freeze the bit of soured dough, then bring it out to thaw the night before you want to bake the next batch using the recipe.

It is a good idea to make up small packages of 100g, several if possible, so that you have some in stock and can take them out of the freezer as you need them.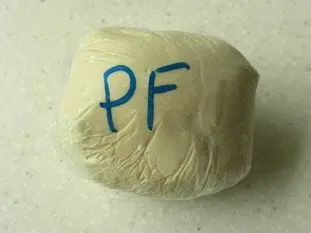 To keep the system going, you need to remember to keep back 100g (or more) each time you make the recipe. But if you become a fermented dough aficionado, which is highly likely, given the quality of the bread it produces, you can even make a batch of dough just for this. Leave the whole batch to ferment overnight then, the following day, divide it into 100g lots, wrap these and freeze them. This will give you plenty of soured dough in stock for your baking in the weeks to come.


What can I use it in?
As I have already mentioned, in any recipe that does not use leaven, certain breads or special breads, such as ciabatta, aperitif rolls, etc. , but also in pizza dough and – more surprisingly, but very effectively – in sweet breads or "viennoiseries".

Please note that to keep things simple you can use the same soured dough, let's call it "soured bread dough", for all breads, but for viennoiseries you will need a "soured viennoiserie dough" , made using the recipe for brioche dough, or milk rolls, but leaving out the butter.
To sum up
Using soured dough really improves the flavour
It is normal to add around 20% of the weight of flour being used
A different dough is used for bread and viennoiseries
It freezes very well