The bitterness of endives
Yes, and there is a trick to this, a trick that consists of removing, and discarding, the most bitter part of the endive, the heart, before using it.
This part, shaped like a cone, is at the base of the endive and can be removed with a small sharp knife like this: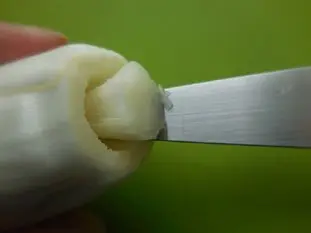 Once this is done, use the endive as normal, but keep in mind to cook it for as little time as possible, it is not a vegetable that is meant to be cooked, but to be stopped cooking as soon as it is tender.
Another way to reduce this bitterness is to blanch them. If you have a recipe for cooked endives, for example
endives au gratin
, do not hesitate to
blanch
them for
1 or 2 minutes
in boiling salted water, then drain them very carefully before using them normally.
Well, you have to be honest, you will reduce the bitterness with all this, but not make it disappear, the bitterness is part of the taste of endive, there is a big work of seduction to do with children to get them to eat it...
If you are in this moment, I suggest you to start with an
endive salad with walnuts
(raw then) finely sliced with a walnut oil dressing, it is a very good, and very progressive beginning, for a discovery of endive.
To sum up
: For less bitter endives: 1) Remove the core 2) Cook as little as possible.