Choosing a chopping board
Glass or metal: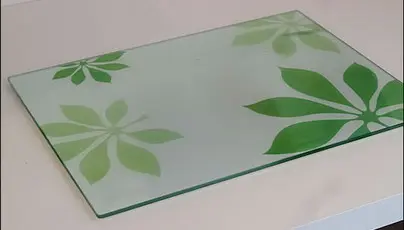 You will sometimes see chopping boards made from these materials, generally decorated with an embedded photo or graphic design. It's very simple: just don't buy them! Both materials will blunt your knife very rapidly.
A chopping board should be made of reasonably soft material.
Wood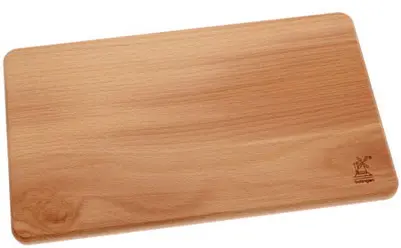 Hmm... It's tempting to go back to natural materials with an old-fashioned chopping board, like those that have been used since medieval times.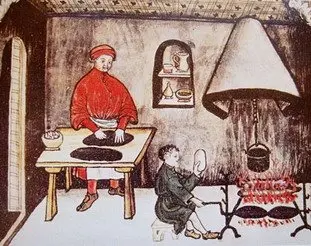 This is an appealing idea, but wooden chopping boards have two problems: the knife cuts into the wood easily, so you end up with a certain amount of "sawdust" in the food you are cutting, and wood is porous, so it can hold smells or flavours, even if it is cleaned very thoroughly (this is pretty disastrous if you cut garlic on it, then follow that with pastry for a dessert, for example – just imagine the mix of flavours…).
A chopping board should be resistant to knife cuts.
Synthetic material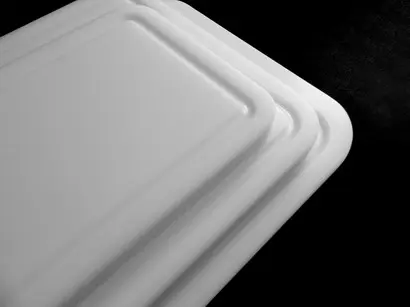 This is without doubt the ideal solution: flexible enough to
protect the knife edge
, robust enough not to be damaged too quickly. It is easy to clean and does not tend to hold flavours or smells.
The synthetic materials fall into two main groups: high-density polyethylene or HDPE, and polyvinyl chloride or PVC. HDPE is more expensive than PVC, but much more resilient and more neutral, so better for our health.
Most of the cheaper chopping boards on sale in the shops are in PVC and these present much the same problem as wooden ones: they are easily damaged by the knife, so you will soon end up with bits of PVC in your food. It is better to be careful and replace any PVC board which shows too many knife marks.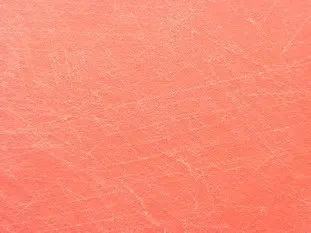 When it comes to the size, it's quite simple: the bigger the better (as long you can find a place to store it in your kitchen, of course). A board about 30 x 30 cm (12 x 12 inches) and 1 cm (½ inch thick) is a good compromise. A large board is comfortable to use as you can cut things easily and push them to the side as you go. This is more awkward with a small board.
If you buy a board in HDPE from a professional cookware shop (expensive, but the quality will be good), you will have a choice of both size and colour, as restaurant kitchens use different boards for meat, vegetables, fish, etc. and these are colour coded (red = meat, green = vegetables, etc.).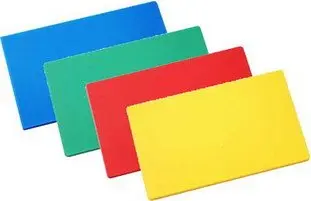 To sum up
: For your own kitchen, invest in a board in HDPE about 20 x 30 cm (8 x 12 inches).