Overview
Steam is an essential element in a bread oven. It might seem unlikely but it's the presence of steam that helps form the golden crust. For a continual supply it's possible to put a dish of water in the oven or spray the inside, but it's necessary to open the door from time to time to do this, which allows heat to escape.

To overcome this problem the best solution is the "steam/mist machine", something able to produce mist in the oven when the door is closed.


How it work?
The tip is to get and old steam iron machine from who you keep only the steam machine, iron is not needed. I have found mine on e-bay for 8 €, so not too expensive.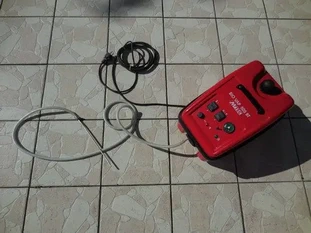 You see it on this photo.

Principle is very simple, you put water in the machine and plug it, she heat the water and produce steam, this steam is put in the oven and make the mist necessary to golden brown bread.


How to?
You will need some DIY to do that.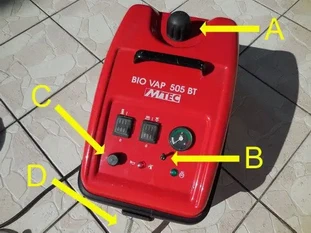 "A" on this photo, the water tank, and "C" the fader for steam level, no need to change anything for this parts.

Normally the machine produce steam when you press the trigger of the iron, you need to change that because we want permanent steam production. To do that I replace the trigger by a simple switch in "B".

After that, you need to add a hose on the output of steam in "D", and finish it with a small metallic pipe which can go in the oven without melting, like that: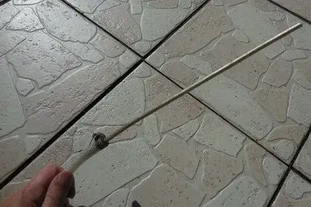 Use
The steam machine is ready, here is my way to use it:
Oven at 520°F (270°C), I switch on the machine until she start producing steam
Oven at 480°F (250°C), I switch off the machine
I put loaves in the oven
I close the door of the oven
I put the pipe in the oven, and start again the machine
I let it produce for 15 minutes (about)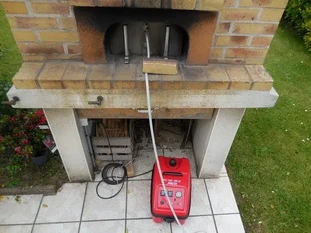 With this way, I got excellent results: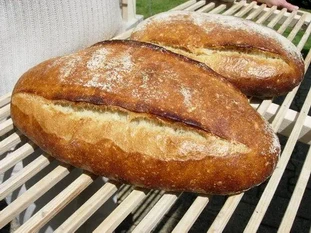 Conclusion
Steam in the oven is absolutely necessary to get lovely good breads. A steam machine like this one is a good solution. Note: if you have a kitchen oven, here is an easier method.
Some delicate points
More than steam, too dry, it's a mix of water and steam which is needed. Adjust your fader ("C") to get that.
The water you put in your machine will partly end on your bread, so always use fresh and pure water, possibly rain water.
Some drop of water will fall from the metallic pipe in the oven, be careful that there is not loaves under.