When should I change my knife?
You may remember how important it is to pay a lot of money for your knives, and to choose models with a stainless steel blade, a handle made of a composite material often called "plastic", etc. This is still true, and I dwell a little on the blade, which being made of steel, with time dulls, sharpens and must therefore be regularly sharpened. This is always true, and I dwell a little on the blade, which being steel, with time dulls, de-sharpens and must therefore be regularly sharpened.
The best way to do this is to use a
sharpener
, and in an elegant gesture (but unfortunately not easy to catch) you sharpen the blade again. To make a long story short, you should always have razor-sharp knives, it's always much more pleasant to cook with.
Let's come back to this knife sharpening, it turns out that in the gesture of sharpening, one naturally accentuates one's effort on the middle-lower part of the knife blade, and therefore it is there that the wear will be the fastest. This wear can be seen over time, it creates in the blade of the knife, very slowly, a small hollow, a slight curvature, which you can see on this photo (red arrow):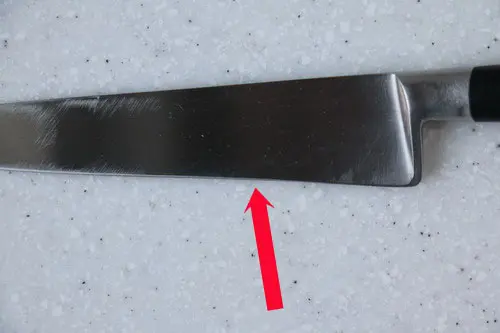 This hollow, if visible, is a sign that your knife is at the end of its life in "kitchen" mode: You will find it difficult to sharpen it, more and more, so it will cut less well, and will not be ideal for cooking.
To make a comparison, see these 2 knives side by side: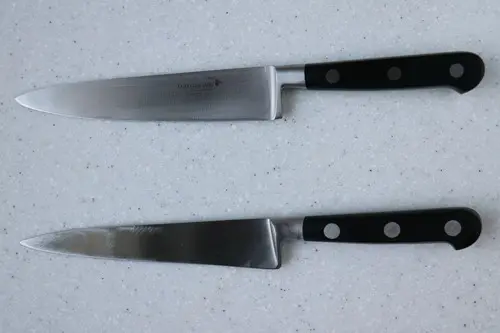 The top one is new, the bottom one has lived well, note the hollow of the blade at the bottom, and the nice rounding of the top one.
It's time to change the bottom one, of course you shouldn't throw it away, but use it for something else than cooking (garden, DIY, ?) or recycle it.
Well, it's not always easy, we are often attached to our tools, that we have well in hand, but it is necessary to take the step, the old knives even if they have a sentimental value, can become a brake to your good cooking.
To sum up:
When the blade of your knife starts to get hollow, it is time to think about changing it.