The blog of cooking-ez.com
Artichoke stalks
When preparing artichokes for cooking, you may well already know that we often need to remove the first round of leaves, if they are tatty or dirty, as well as the inedible stalk. The operative word here is "remove", rather than "cut off". To show you better what I mean, here is what not to do: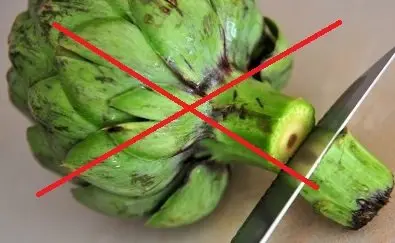 Why? Well, it's because the artichoke stalk contains tough fibres that run up into the heart. These don't cook well (if at all) and are very unpleasant to eat. Cutting the stalk off with a knife, like in the photo, leaves the fibres in the heart intact.
Here's how to do it: do not cut the stalk, but break it off, as shown here: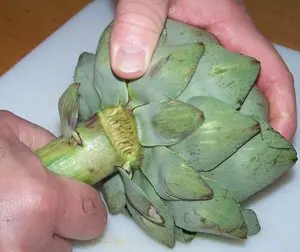 Hold the artichoke firmly on the edge of a table with one hand, then bend the stalk sharply with the other hand until it breaks off, bringing with it most of the fibres I mentioned earlier. It is worth noting that this is much easier to do when the artichoke is really fresh. Once the stalk starts to soften, it will bend without breaking properly.
To sum up: When preparing an artichoke for cooking, do not cut the stalk, but break it off instead.
Important: it is quite different for the
small purple artichokes
, which can be eaten with their stalk (and everything else).
Last modified on: October 25th 2016
Post a comment or question:
You are welcome, if you wish, to comment on this page: why you like it or not, what you have changed, what results it gave, point out a mistake or omission, etc. You can also ask a question. I answer all questions (in a broken English, sorry) unless someone else does it before me.
Please feel free to say what you think, I'm always very interested in your opinion. Your comment will appear on line with the page, so please write in standard readable English, not SIM or only in CAPITALS, otherwise your comment may be rejected.
Please look at advice for submitting a comment or image (what you should or should not do). By the way, don't type your e-mail address in the comment, otherwise you might be spammed.
Follow this page
If you are interested in this page, you can "follow" it, by entering your email address here. You will then receive a notification immediately each time the page is modified or a new comment is added.