Butter doesn't make you fat, unless you eat too much of it.
---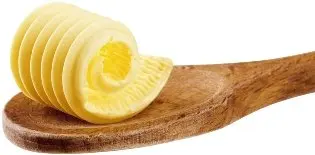 Whenever I'm discussing cooking and recipes, there is one idea which comes up frequently, like this: "Oh no! But that's got butter in it" (I should add, for the sake of accuracy, that this is something I hear more frequently from women, who are almost all concerned with keeping their figure).

This immediately gives me the impression that butter is THE ingredient that should be banished from the kitchen, and it has been banned in a lot of so-called "healthy cooking" or "slimming" recipes, often being replaced by oil, preferably olive.
Last modified on: March 26th 2012